Hyundai Santa Fe Vs Kia Sorento – What You Need To Know
Hyundai Santa Fe vs Kia Sorento - What's the difference? Which SUV is better? Read this comparison to find out which SUV is right for you.
Hyundai and Kia are two of the most popular car manufacturers globally, but they are also two of the most competitive. Many of their cars directly compete with each other. One of their most competitive vehicles is the Hyundai Santa Fe vs Kia Sorento.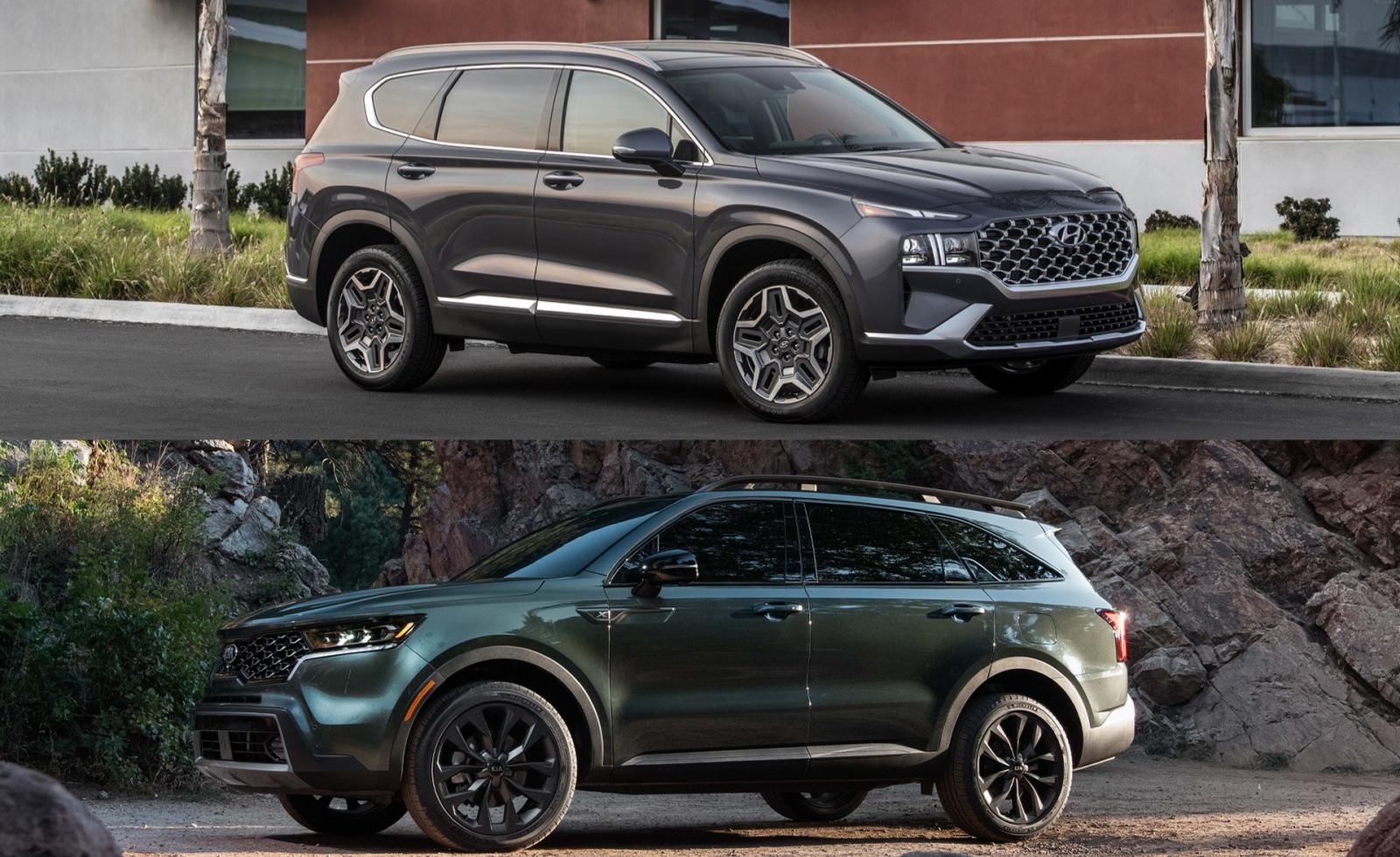 Kia Sorento Vs Hyundai Santa Fe
These two SUVs are similar, but they also have unique features and characteristics. This writing will explain why you might want to buy a Santa Fe or a Sorento.
Overview
Making an informed decision is key in any purchase. Get the facts without being fooled by the fluff to make sure you're making an informed purchase. Two great options at your fingertips that won't leave you broke beyond measure when it comes down to mere pennies.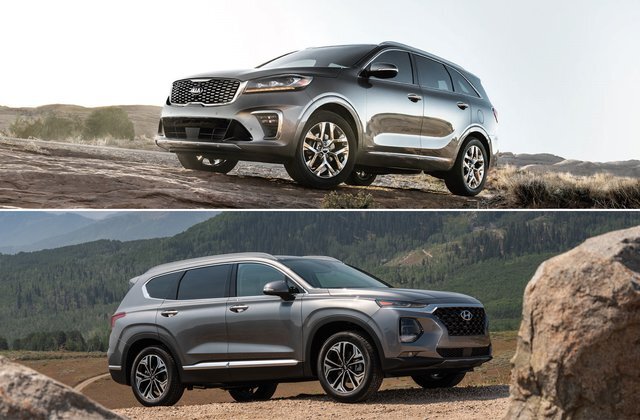 Hyundai Santa Fe Vs Kia Sorento
Kia and Hyundai cars are not luxury vehicles when it comes down to how they are styled or priced, so if you need a mid-size SUV that offers a long list of amenities inside and out but doesn't want the bells and whistles that come with paying for a luxury vehicle then both the Hyundai Santa Fe as well as its sister model, the Kia Sorento, fit the bill - no pun intended!
Whether you go for it, both models have stylized exteriors, spacious interiors and comfortable legroom, and available safety features such as blind-spot detection.
Hyundai Santa Fe Vs Kia Sorento
Exterior/Dimensions
The Santa Fe vs Sorento are great vehicles, but what are some ways to tell them apart on the car lot? You'll want to know the dimensions of each vehicle to find out if Santa Fe is the better fit for you. The Hyundai Santa Fe dimensions - 4470 mm x 1890 mm x 1680 mm, are wider but shorter and lower than the Sorento.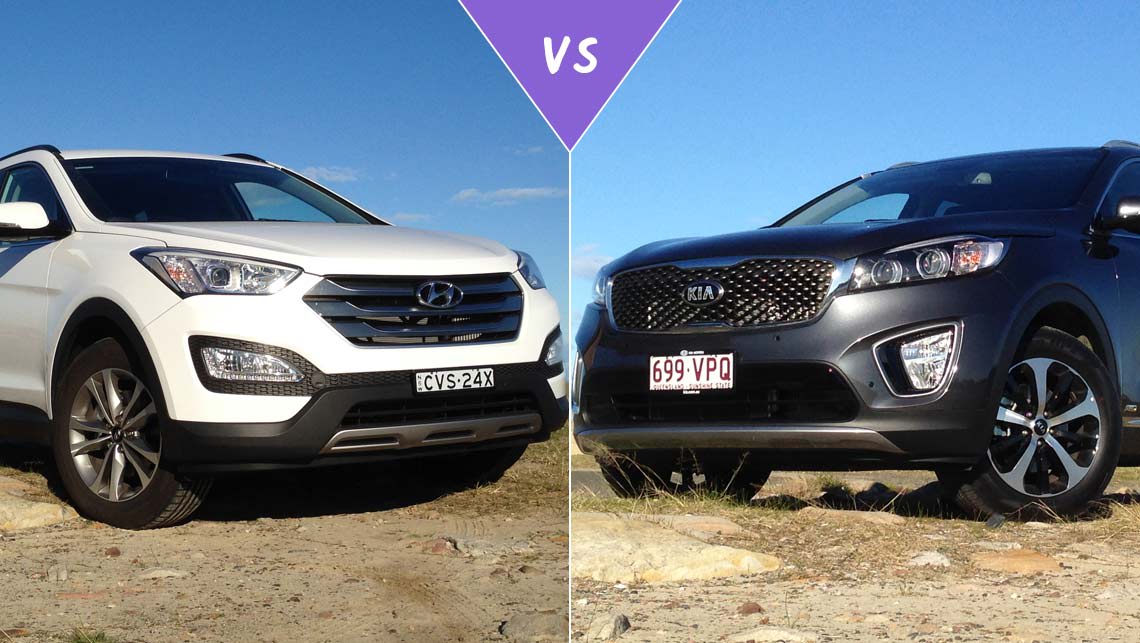 Hyundai Santa Fe Vs Kia Sorento
When deciding between the Hyundai Santa Fe and the Kia Sorento, the colors option is also the top reason people will or will not buy a specific brand. And in this criteria, Santa Fe gets the win with an impressive nine different colors, which is six color options more than Sorento. So if you have a passion for a specific color, you might consider Santa Fe. 
Interior
When you're behind the wheel of a Kia Sorento, you'll enjoy an incredible amount of headroom, shoulder room, hip room, and legroom in both rows. In the front row, drivers get 1024 mm of headroom and 1044 mm of legroom to stretch out with. 
The second-row seats are spacious, offering 1059 mm of legroom for those sitting in the back to stretch out on long drives down the highway in comfort and style. As you might expect, the third row of the car has a smaller capacity—providing space for children. The third-row passengers get 935 mm of headroom and 747 mm of legroom, which is more than enough for kids.
Meanwhile, the Hyundai Santa Fe has a seating capacity of 5 people and comes standard with 54.3 cubic feet of passenger volume. The front and back rows come with 1448 mm of headroom for the driver and passengers. While second-row passengers will find 1189 mm of legroom and 1369 mm of hip room inside the cabin while seated.
Engine
The Kia Sorento is available in LX and S trims. Both feature a naturally aspirated 2.5-liter 4-cylinder that produces 191 horsepower and 181 lb-ft of torque. This engine powers either the front or all wheels via an 8-speed automatic transmission. You can go for the S trim with a turbocharged 2.5-liter engine that develops 281 horsepower and 311 lb-ft of torque.
The Hyundai Sante Fe comes in six different trim levels, and it also comes with a choice of two engine options. The Sport, SE, SEL, and Limited trims come with the naturally aspirated 2.5-liter 4-cylinder engine, offering 181 horsepower and 181 lb-ft of torque with 8-speed automatic transmission. 
The Calligraphy and the Calligraphy 2.0T AWD models come with the turbocharged 2.4-liter 4-cylinder engine with 281 horsepower and 311 lb-ft of torque. The 8-speed dual-clutch automatic is automatic transmission and your choice between front or all-wheel drive.
Price
Hyundai Santa Fe 2022 price Philippines is ₱2.158 million for the GLS 2WD/T variant of the Mid trim, ₱2.538 million for the Dsl variant, and ₱2.719 for the top of the line 2.0 Turbo 4WD/T variant of the High trim in Manila. Meanwhile, Kia Sorento costs ₱2.398 million for EX spec, ₱2.588 million for SX trim, and two fastback editions, both in top-spec variant and aren't available yet as a wagon Hybrid model.
If you're someone who buys their mid size SUV on a tight budget, one model gives you an advantage when it comes to getting the features and quality you need at a price that won't break the bank: the Hyundai Santa Fe. 
Whether you're looking at the base model or the fully-loaded premium package, the Kia Sorento costs about ₱400 more, making it less attractive for penny-pinching buyers!
Which Is Better?
Choosing Kia over Hyundai can be difficult because there are many similarities between the two. Having two cars in the same performance, the deciding factor usually comes down to how each will best suit your everyday travel needs. 
If you regularly have more than five people in your car, we recommend checking out the Kia Sorento. If you want to save money and don't require 6 or 7 available seats all of the time, the Hyundai Sante Fe might suit your needs better.
Conclusion
If you are looking for a vehicle that will fit your family and your active lifestyle, the Hyundai Santa Fe vs Kia Sorento are both excellent options. 
When comparing the two, you will find that they are very similar in many ways. However, they do have a few differences, so it's important to know all of your priorities when shopping. We hope you enjoyed our post on the Hyundai Santa Fe and the Kia Sorento! Also, you might read our writing of any other article like this on Hyundai Stories.
SIMILAR STORIES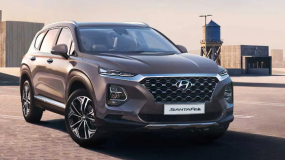 Oct 03, 2022
The Hyundai i10, Accent, Elantra, Kona, and Tucson are all popular models in their respective segments. Similarly, "elder" Santa Fe has a strong presence in the D-class SUV/CUV segment. Hyundai Santa Fe has a long history in the Philippines market, which has earned it a lot of trust from users.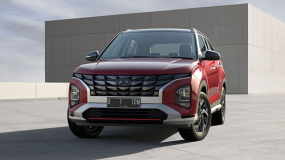 Sep 26, 2022
Hyundai Creta 2022 price is slightly lower than the segment, so it is really worth the try!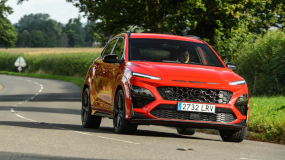 Sep 19, 2022
Hyundai Kona 2022 Philippines is a small SUV that can stir up a market that has a lot of competition from many other well-known brands such as Honda, Mazda, Ford... Hyundai Kona 2022 Philippines is the perfect choice for those who love luxury and sophistication.