Hyundai Reina vs Accent: Oldie but goodies
Hyundai Reina vs. Accent, which one should you purchase? Please look at our review below to find out which of the sedan siblings fit you better!
In the automobile world, the comparison between Hyundai Reina vs. Accent is an exciting topic. They are outstanding subcompact candidates from a renowned brand with over 50 years of experience, ensuring peace of mind for buyers. However, when it comes to choosing between the two, it is overwhelming. 
With that said, Philhyundai.com is here to rescue! We created this detailed comparison to help you make an ultimate, informed decision. By the end of this, you can grasp their similarities and differences. In detail, we will talk about pricing, specifications, other features, and performance.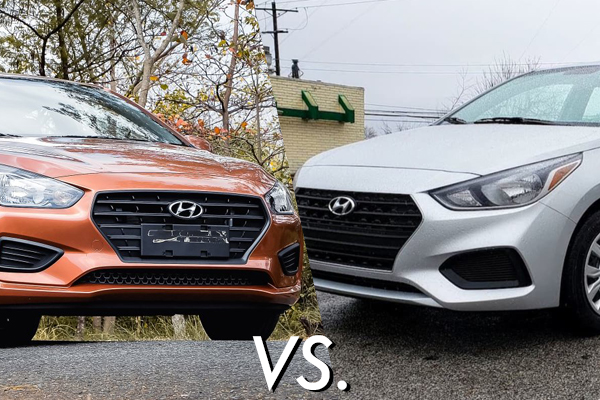 Hyundai Reina vs. Accent: Pricing Comparison 
Hyundai Reina is on sale in the Philippine automobile market for ₱683,000 to ₱783,000. In comparison, the Hyundai Accent is for roughly ₱790,000 to ₱1.04 million. Therefore, they are at different price levels, targeting distinct market segments in the realm. If you are on a stricter budget, then the Reina model may be ideal. Vice versa, if you have a less restraining account, you may choose the Hyundai Accent, which is on the pricier spectrum. 
Hyundai Accent 2020 Price list in the Philippines

|  Hyundai Accent Variants |  Price |
| --- | --- |
|  Hyundai Accent GL 1.4 MT (w/o Airbags) |  ₱790,000 |
|  Hyundai Accent GL 1.4 MT |  ₱838,000 |
|  Hyundai Accent GL 1.4 AT (w/o Airbags) |  ₱838,000 |
|  Hyundai Accent GL 1.4 AT |  ₱890,000 |
|  Hyundai Accent GL 1.6 CRDi MT |  ₱910,000 |
|  Hyundai Accent GL 1.6 CRDi AT |  ₱1,038,000 |
Hyundai Reina 2020 Price list in the Philippines

| Hyundai Reina Variants  |  Price |
| --- | --- |
|  Hyundai Reina GL 1.4 MT |  ₱663,000 |
|  Hyundai Reina GL 1.4 AT |  ₱713,000 |
|  Hyundai Reina GL 1.4 MT (w/ Apple CarPlay/Android Auto) |  ₱713,000 |
|  Hyundai Reina GL 1.4 AT (w/ Apple CarPlay/Android Auto) |  ₱763,000 |
Hyundai Reina vs. Accent: Technical Specifications 
Both Hyundai Reina and Accent run on gasoline as sedan vehicles, offering a seating capacity of 5 and are enclosed by four doors. However, the former car model is overall smaller. The Accent is 4400mm x 1729mm, while the Reina is 4300mm x 1705mm. Accordingly, Accent trumps Reina for interior space. Accent features a larger fuel tank, at 45 liters compared to Reina's 43L.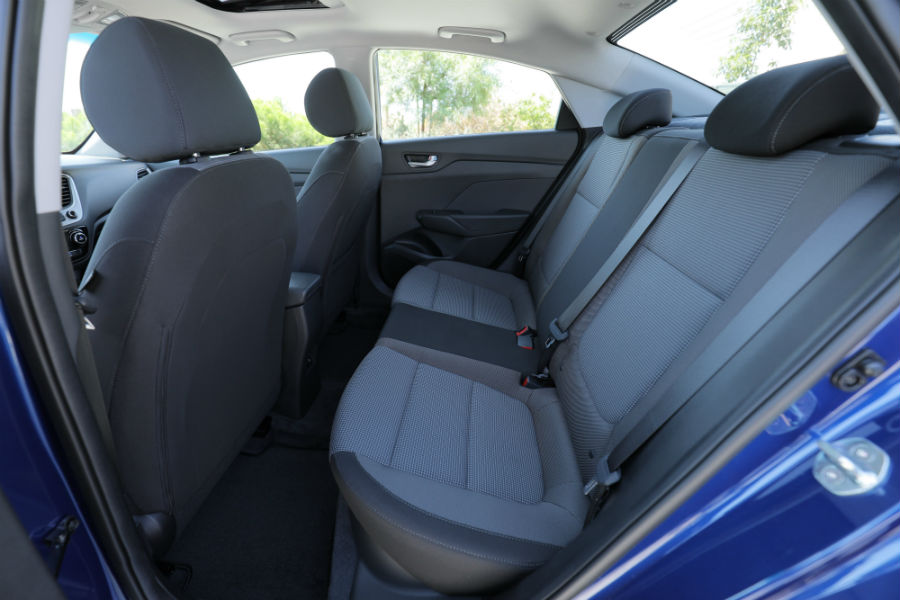 Hyundai Accent offers more interior space for users. 
Even so, it is worth noting that Reina's extra 10mm ground clearance makes it more equipped at handling rough, rugged roads. Therefore, Reina may be more attractive for adventurous personas behind the wheels. 
Moreover, the Reina features a 475 liters trunk capacity, much roomier than the Accent's 388 liters standard trunk capacity. As a result, the Reina better suits users with frequent traveling and getaway agendas.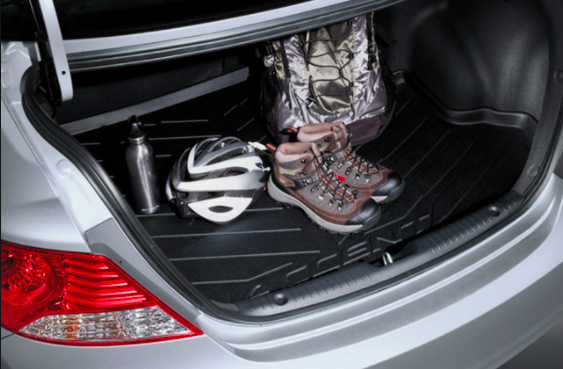 The Hyundai Accent's trunk is slightly smaller than the Hyundai Reina's.
Hyundai Reina vs. Accent: Additional Features
Both cars include the same MacPherson Strut for the front-rear suspension and torsion beam for the rear suspension. They share radial tires, but the wheel and alloy wheel sizes are R15 and 15-inches respectively for the Accent and R14 and 14-inches for the Reina. They are on par for steering details, as both have rack and pinion gears along with an adjustable tilt steering column.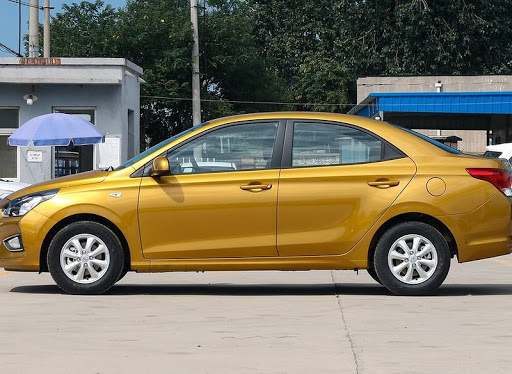 To guarantee safety and security, they have power door locks and a central locking system. The Hyundai Accent includes standard seat belts, plus a high-tensile, durable strength frame. On the other hand, the Reina has an extra sundry of protective gear with two front airbags and ISOFIX in place. Nonetheless, they both have a range of additional add-on features to ensure convenience and comfort for users, including: 
Accessory power outlets 
Low fuel warning light 
Foldable rear seats 
Adjustable seats 
Cup holders 
Heaters
Although they are both equipped with speakers, a radio, and a USB port, they do not have a navigation system. The Accent, however, comes with an AVN touchscreen head unit, which can connect with Apple CarPlay and Android Auto. Adversely, the Reina has a simple 3.8 inches LCD. With that said, those who emphasize value-added features may find the Accent more preferable.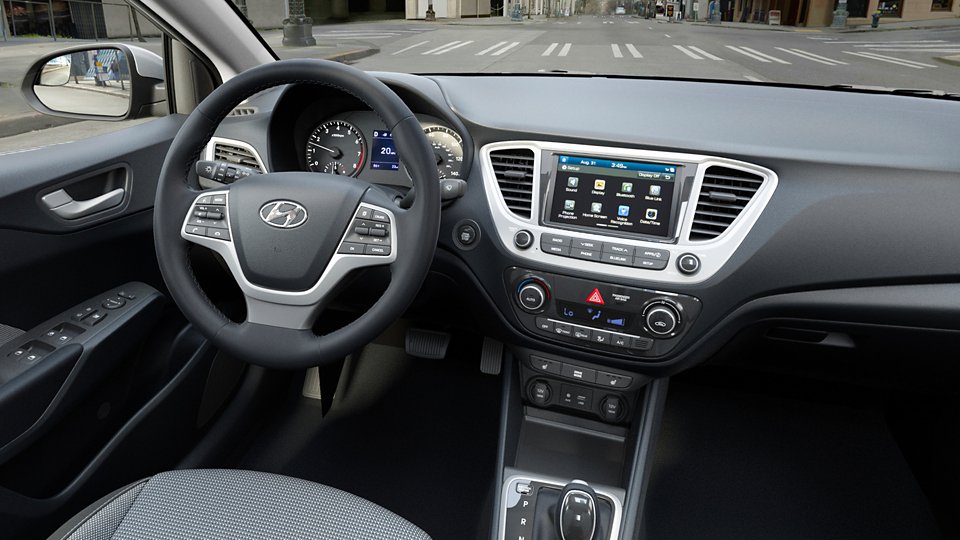 Hyundai Reina vs. Accent: Performance
The two models operate based on an MPI fuel system with an identical 1.4L gasoline engine featuring four cylinders and 16 valves per cylinder. That means that for engine composition, Reina and Accent are neck-to-neck. Hyundai Accent's gearbox is 6-speed, whereas Reina's gearbox is 5-speed, though they are both on a manual transmission.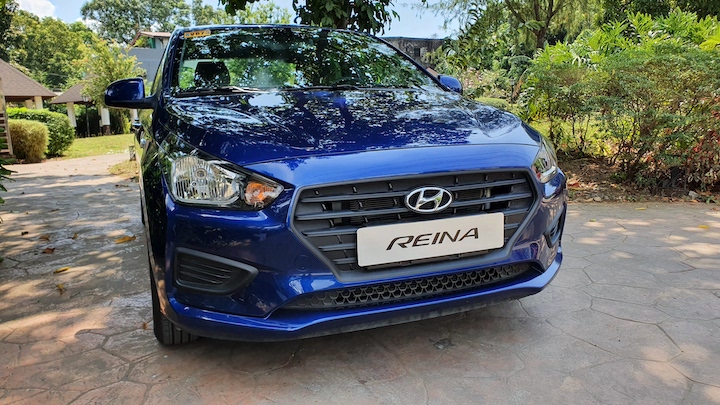 Both Hyundai models Reina and Accent utilize the MPI fuel system.
As mentioned, both car models run on gasoline. Their engine displacement is 1368 cc, and their torque is both at 132 Nm. However, the Hyundai Reina possesses lower power at 94hp, compared to the 99hp of the Accent. Thus, the Accent produces more horsepower, but the level at the same amount of torque. 
Rundown: Pros & Cons
Below is a recap of what qualities a Hyundai model has that beats the other:
Hyundai Reina vs. Accent: Pros
 Hyundai Reina
 Hyundai Accent

Higher ground clearance
Larger trunk capacity 
More safety features

Generous interior space 
Extensive fuel tank capacity
AVN touchscreen head unit
Superior gearbox at 6-speed 
Generate more horsepower
>>> View more comparisons: 
Conclusion
So, you have reached the end of our comparison review on Hyundai Reina vs. Accent. We hope you can use this review's information to make an informed and confident final purchasing decision. 
If you have any other relevant information to share on this topic, feel free to comment below. We are always delighted to hear from our readers!
SIMILAR STORIES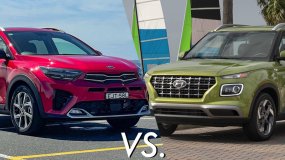 Mar 04, 2021
Which Korean car will be better for you, Hyundai Venue or Kia Stonic? Keep following this brief comparison below. It is bound to be right for you!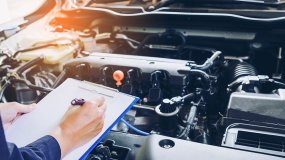 Mar 03, 2021
PMS means Preventive Maintenance Schedule for cars. Since the maintenance schedule affects your vehicle's life significantly, car owners should not underestimate the importance of PMS.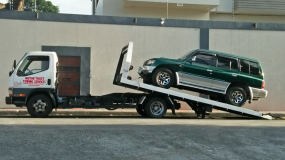 Feb 23, 2021
Car stall in Manila's EDSA is too terrifying, even more in the EDSA-Shaw intersection. To get the quickest help, you should bookmark this short guide of towing services in Manila at once.